Newsletter
Did you know that a lot of our flyers have links?
Click on them to get more information

Check out the virtual bulletin board to find all the flyers in one convenient place.
Giving your body the nutrients and wholesome foods it needs is an easy way to care for your mental health too. Take time today to nourish your body with a satisfying meal (maybe even try to eat the colors of the rainbow!) or drink an extra glass of water. #MentalHealthAwarenessMonth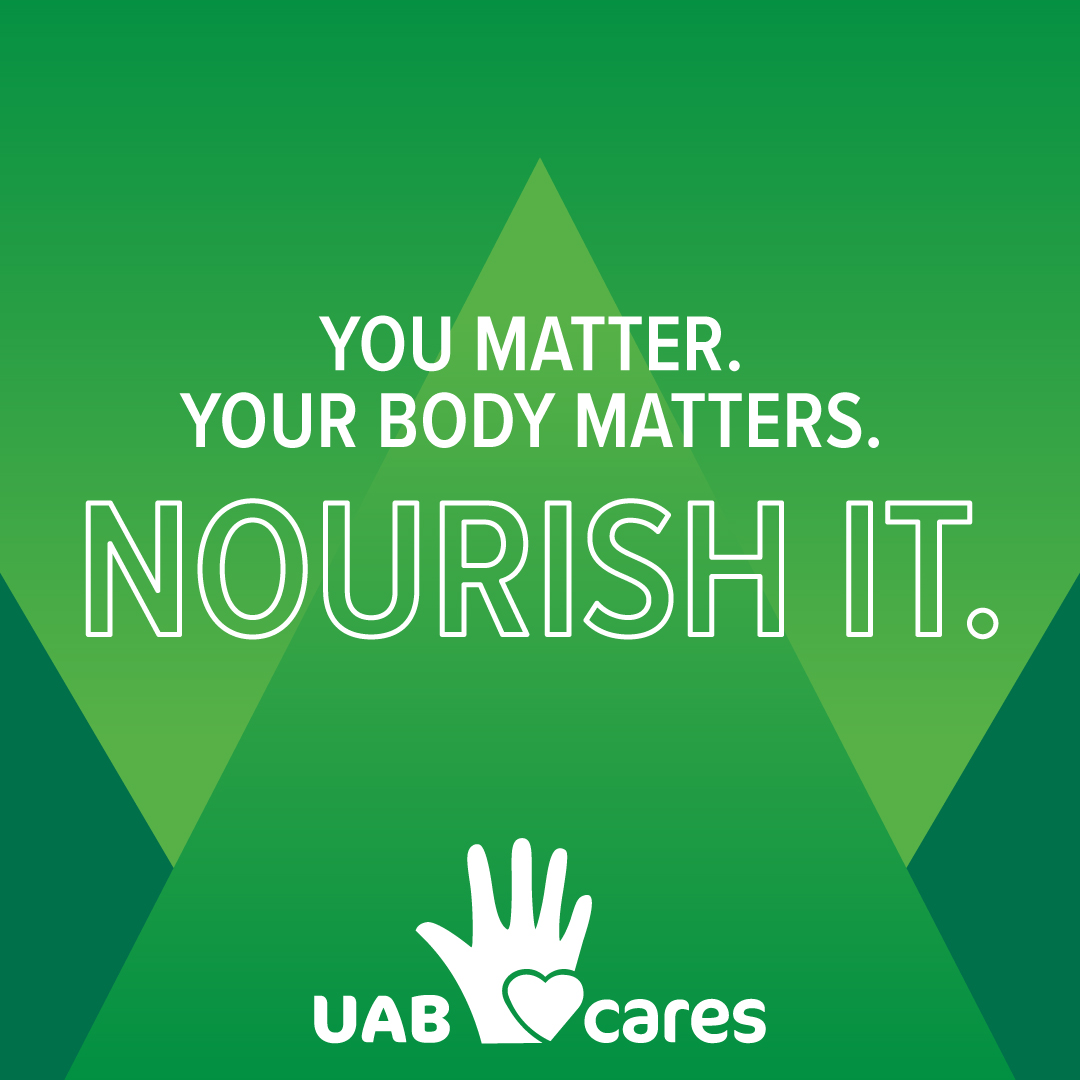 Did you know rest helps restore your body's energy and triggers the release of hormones that effect growth and appetite? Making time to unwind can relieve stress and anxiety and can also improve your mood. Take time today to rest, meditate, or take a break to relax and do something you enjoy.
#MentalHealthAwarenessMonth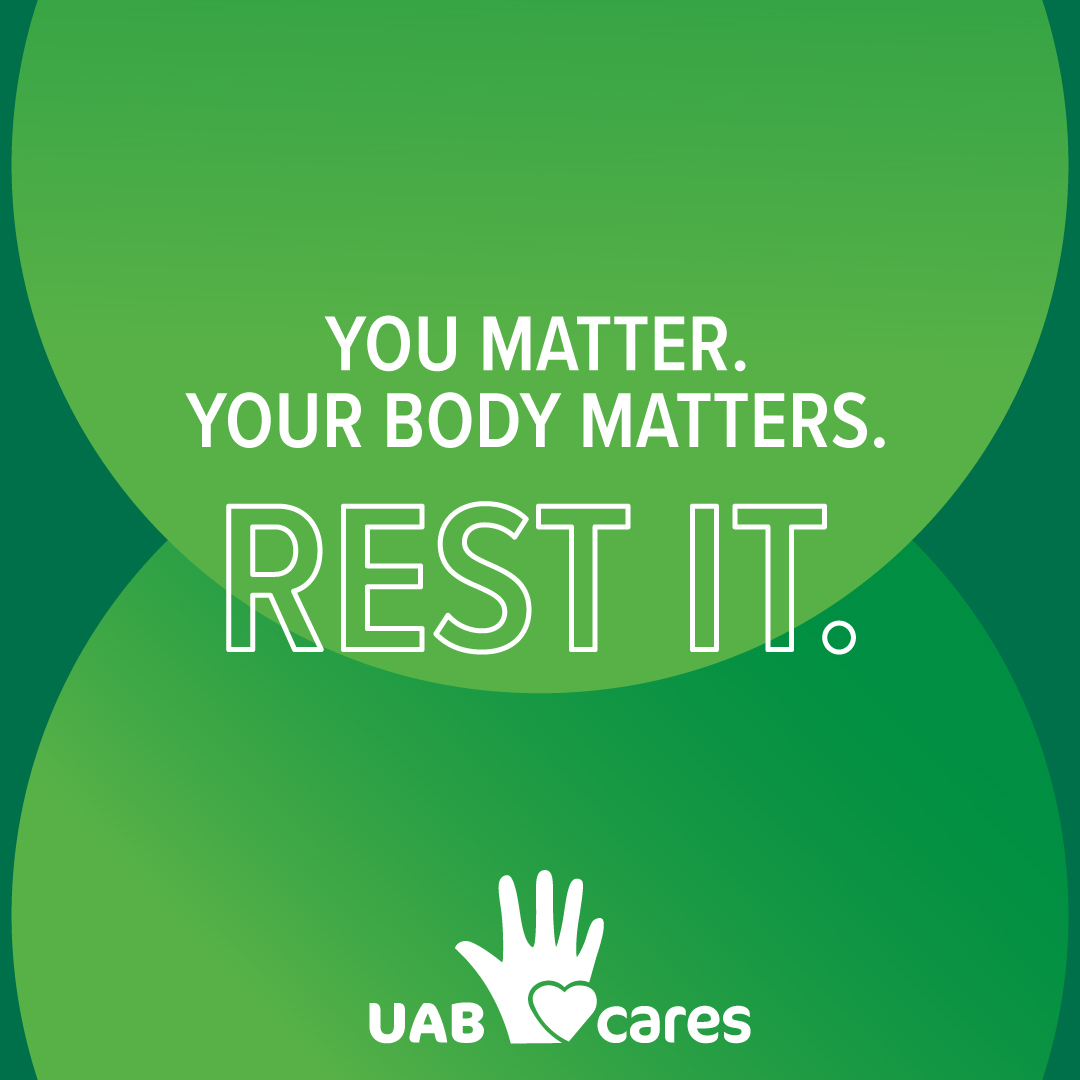 You might already know that exercise is good for your body. But did you know it can also relieve stress, improve memory, help you sleep better, and boost your overall mood? Take time today to go for a walk (bonus points for taking a friend or a pet!), ditch the elevator for the stairs, or get adventurous and try a video workout like yoga or dancing.
#MentalHealthAwarenessMonth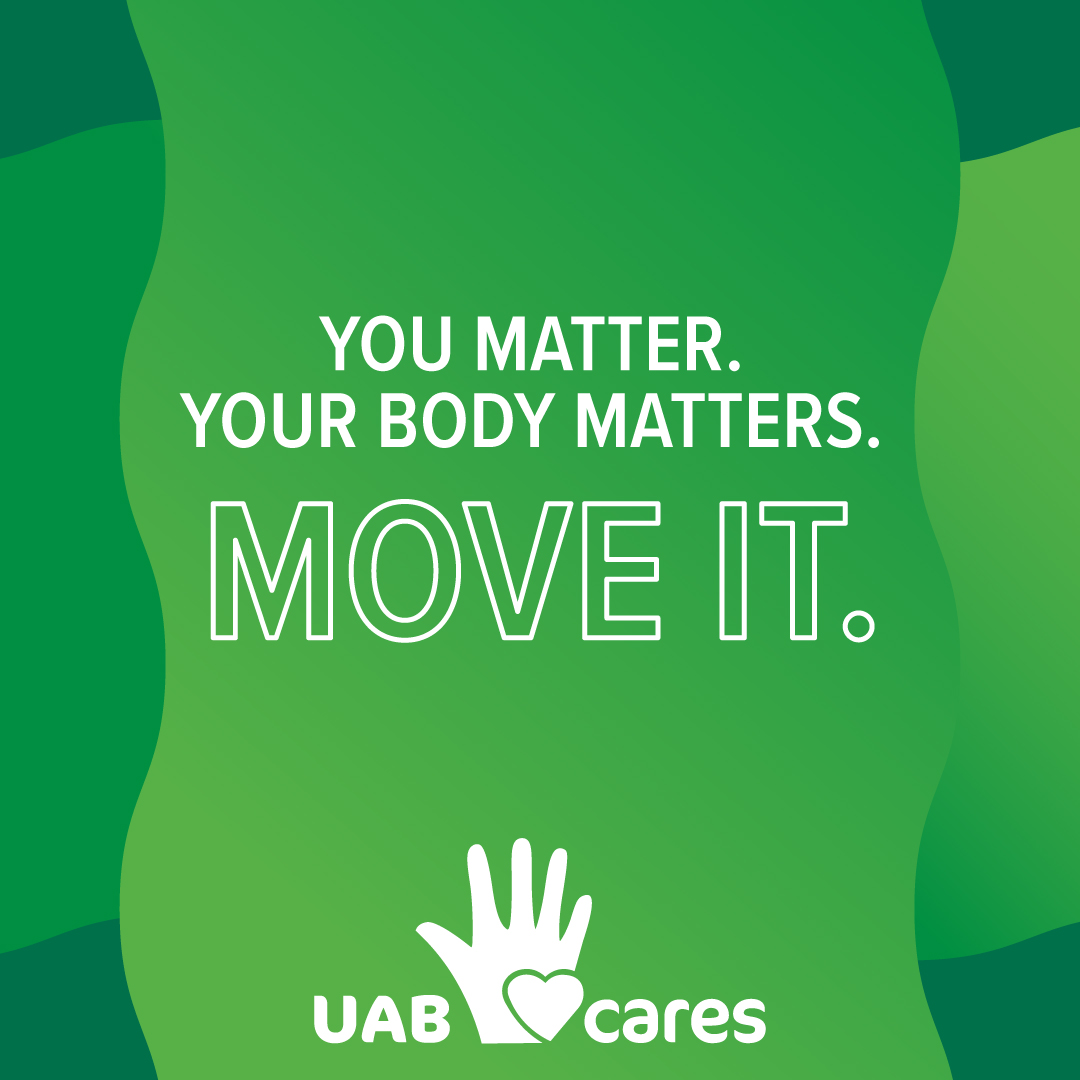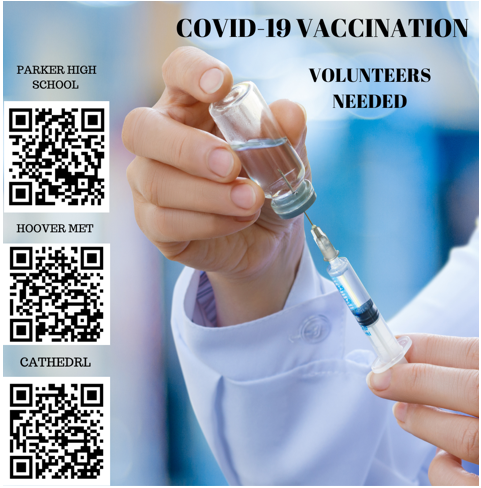 We are looking for YOUR submissions!

Us graduate students are much more than our research.
We want to acknowledge our furry/scaly friends who help us through this experience.

Submit your pet to be featured and share its story with us. This is open to all graduate students (not just senators).
Email: heiser@uab.edu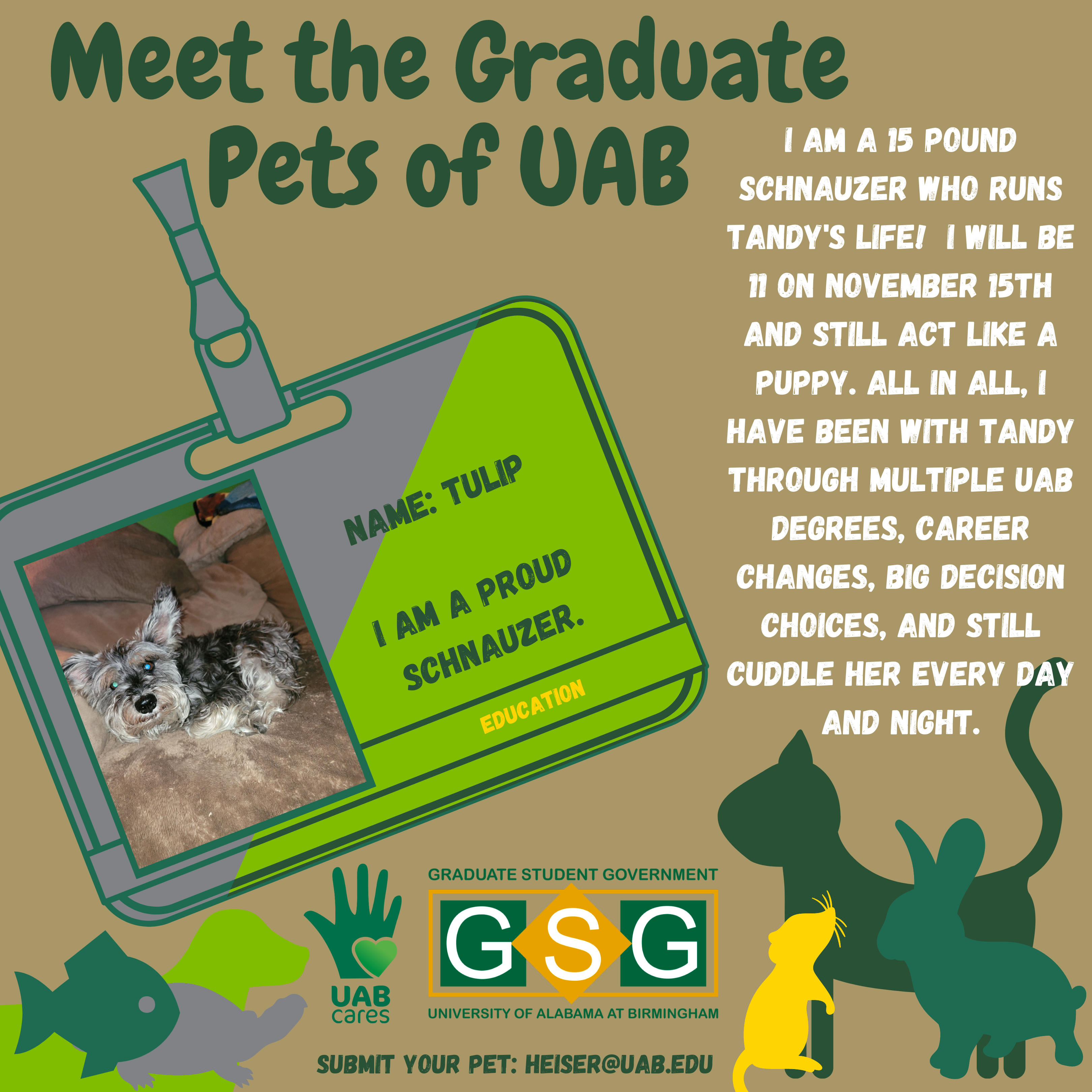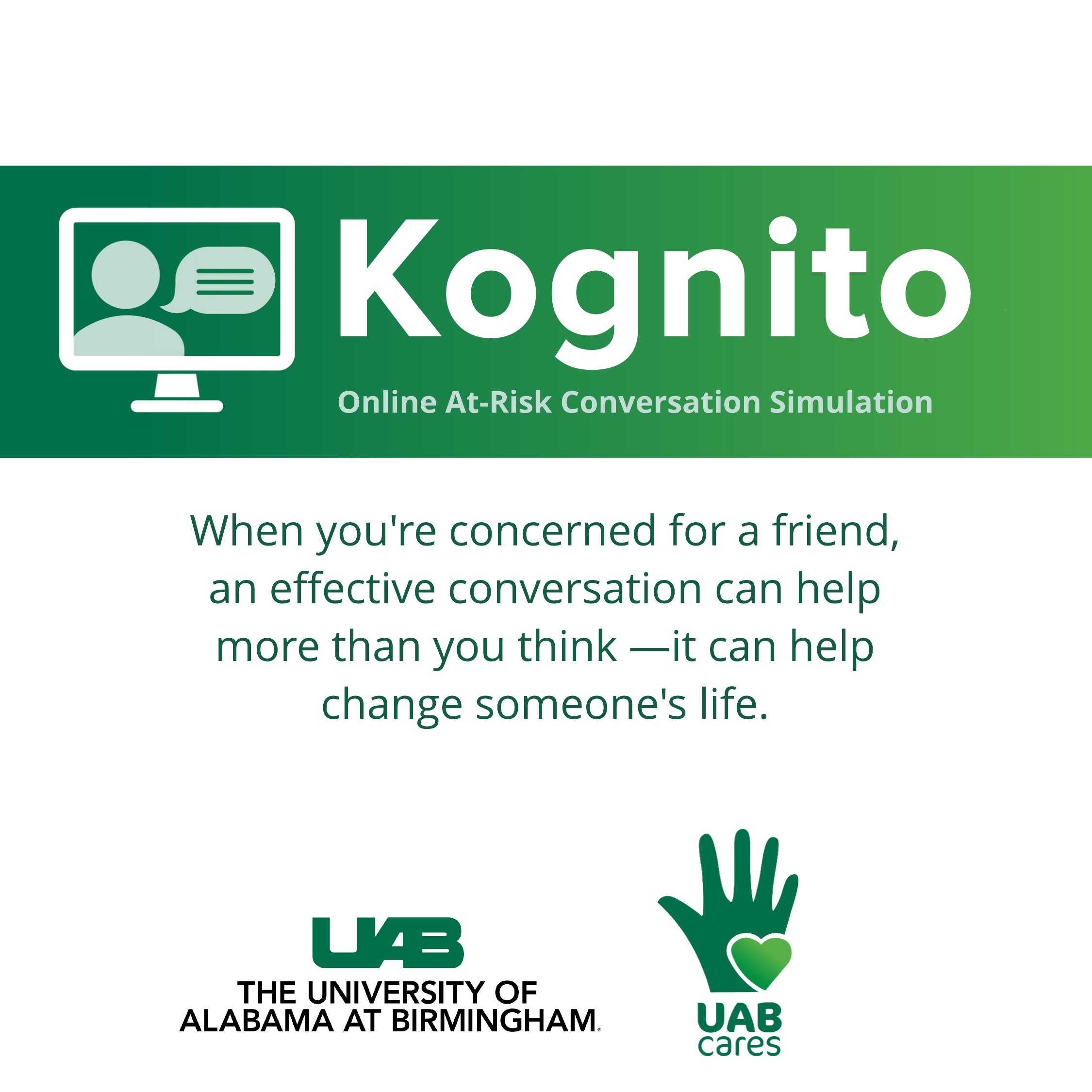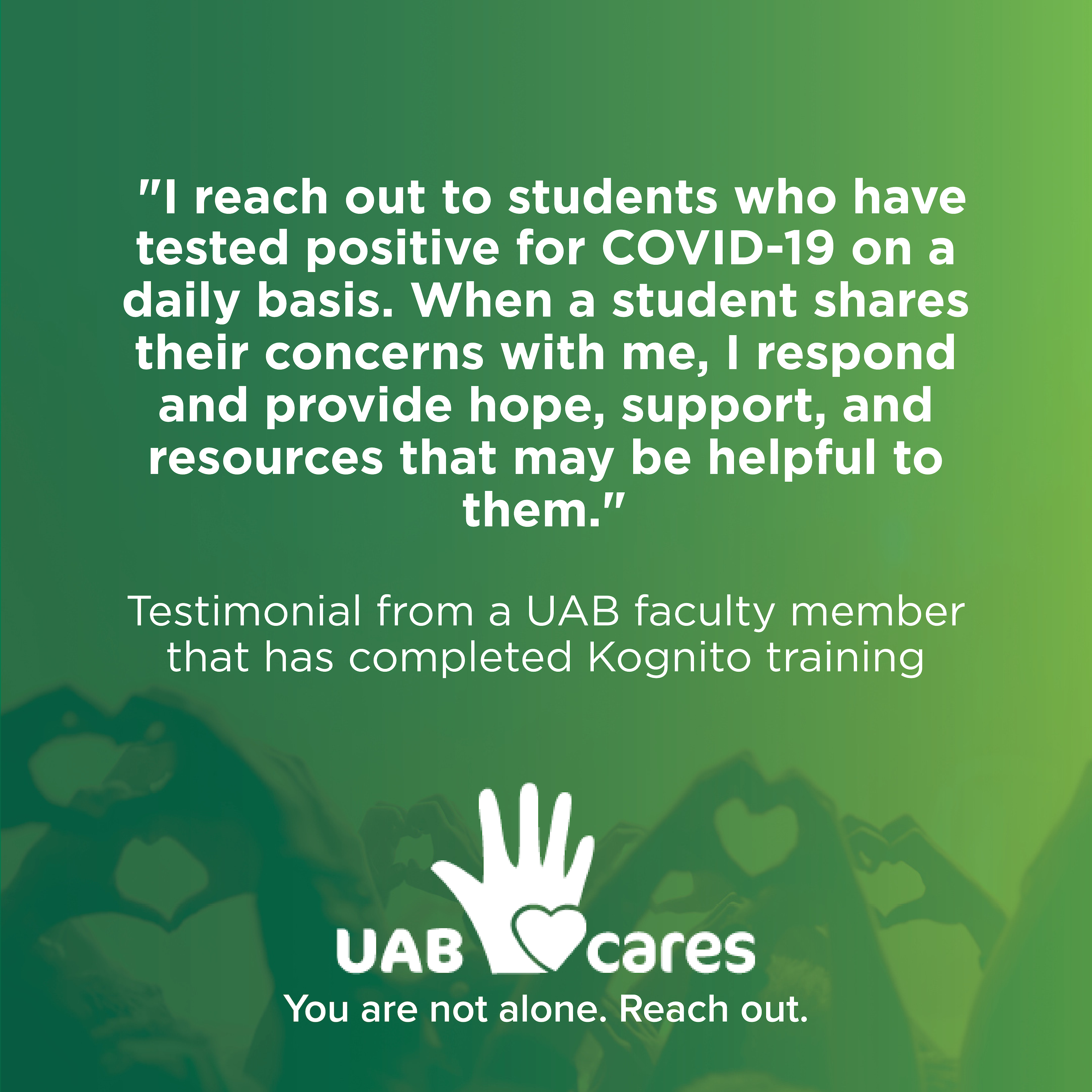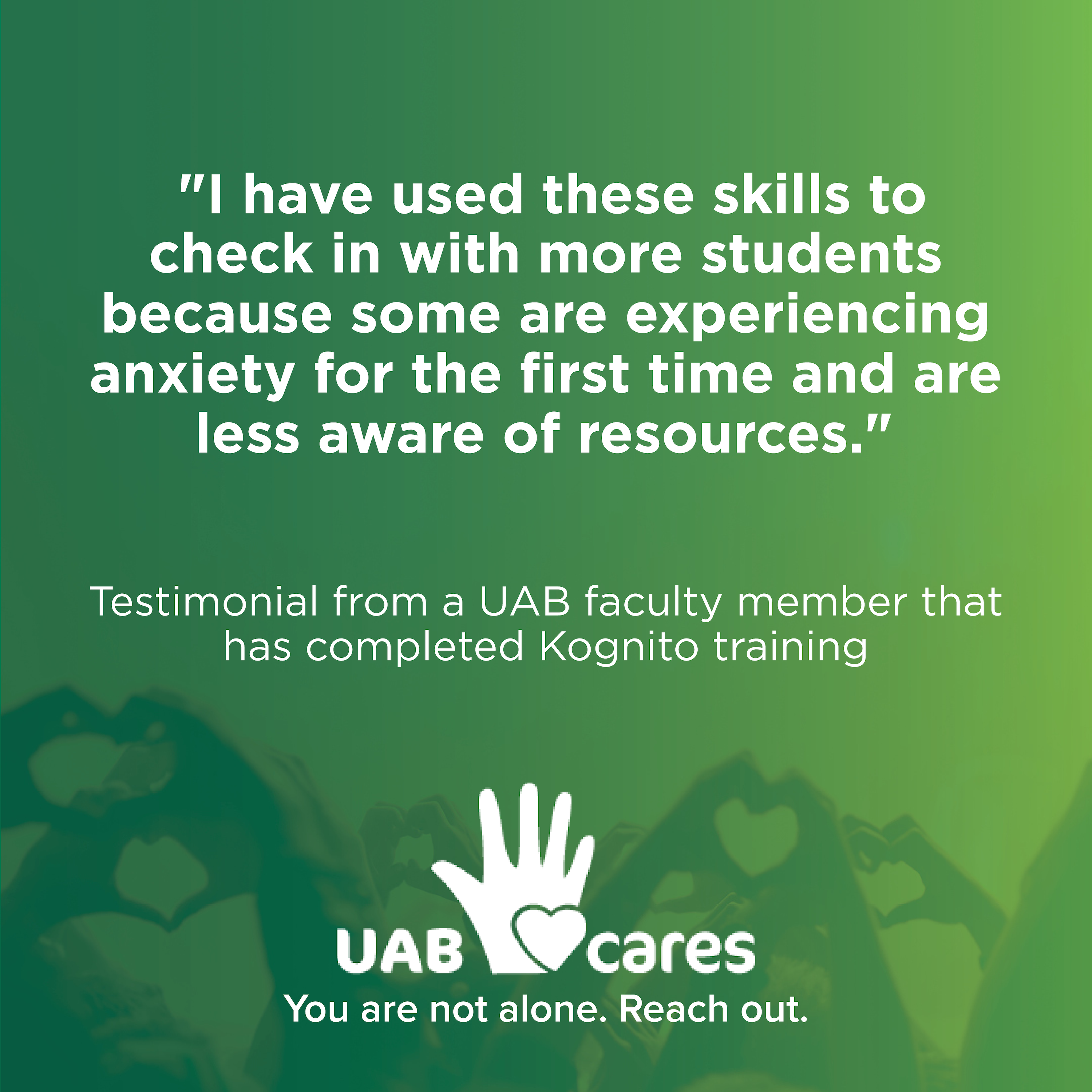 We are looking for more senators - represent your school or department in the Graduate Student Government. It will allow you to network across campus, join university wide committees, and gain leadership skills. Most importantly, you can make a positive change.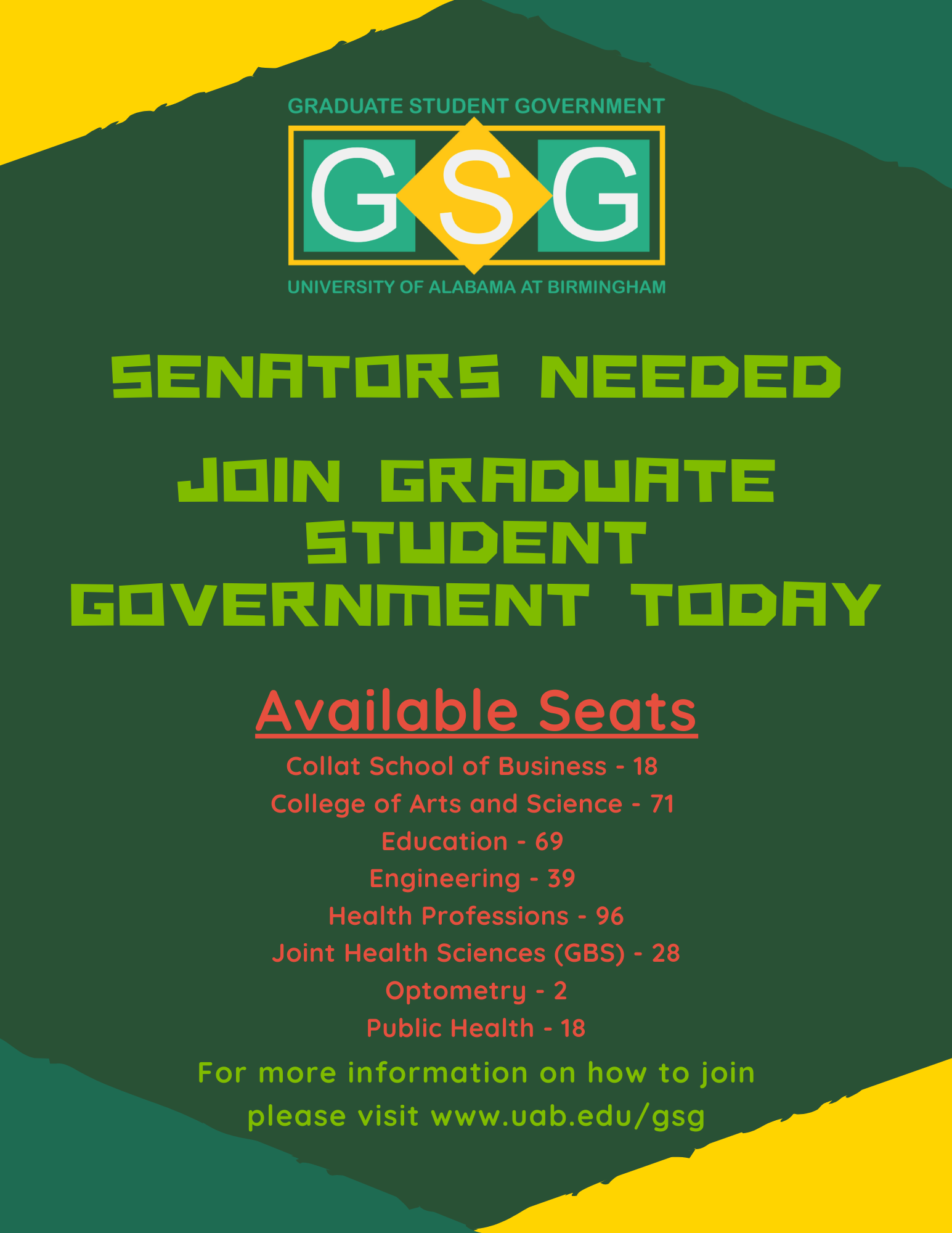 Student Counseling Services' Peer Chat Support Program was created to support students who are in isolation due to testing positive for COVID-19. Volunteers are trained students who will call to check on you and provide support.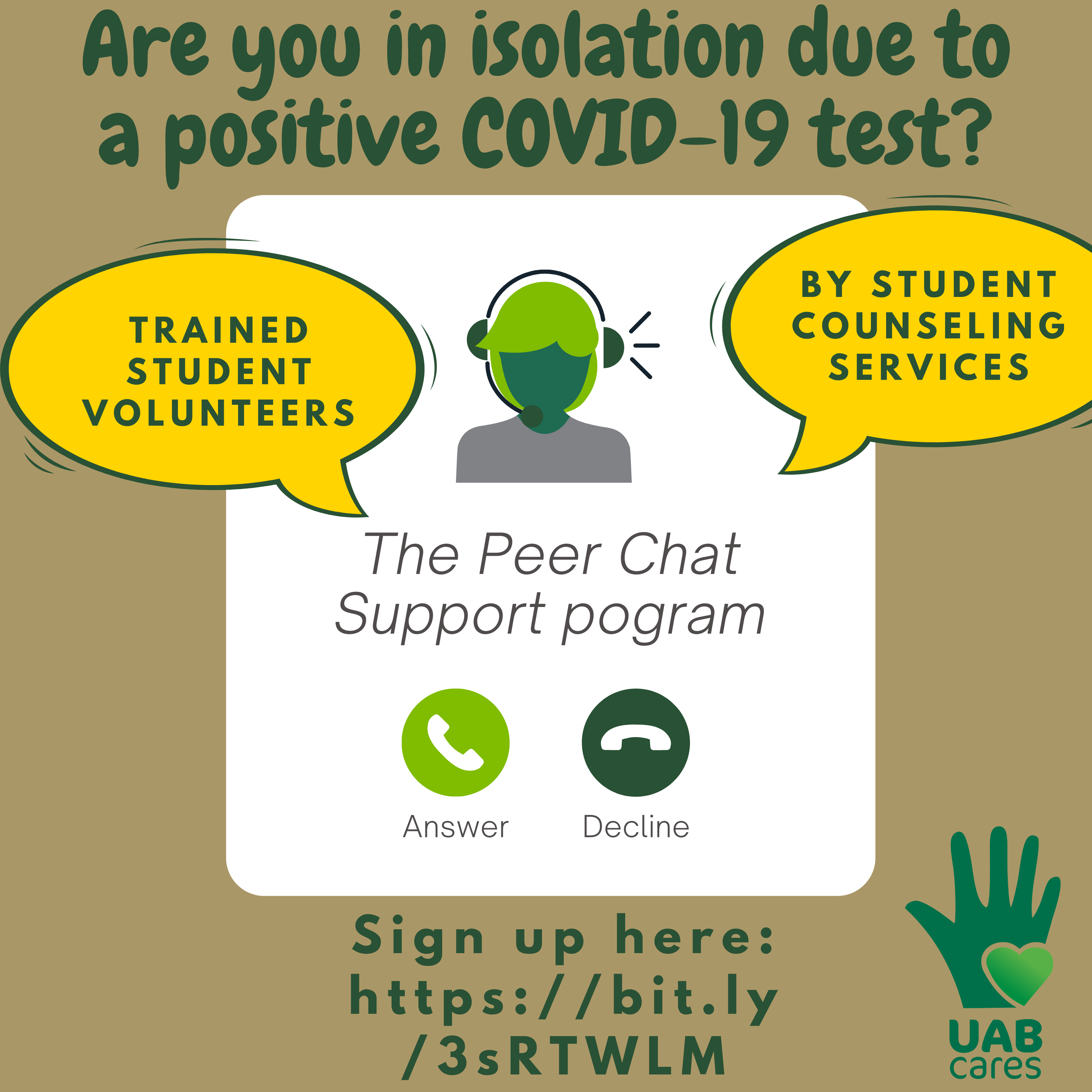 Blazer Kitchen (On-Campus Food Pantry)

For Fall 2020, Blazer Kitchen at Hill Student Center has transitioned to online shopping. To place an order, visit the online order form.

If you have any questions, please contact Student Conduct & Outreach at 205-975-9509 or studentoutreach@uab.edu.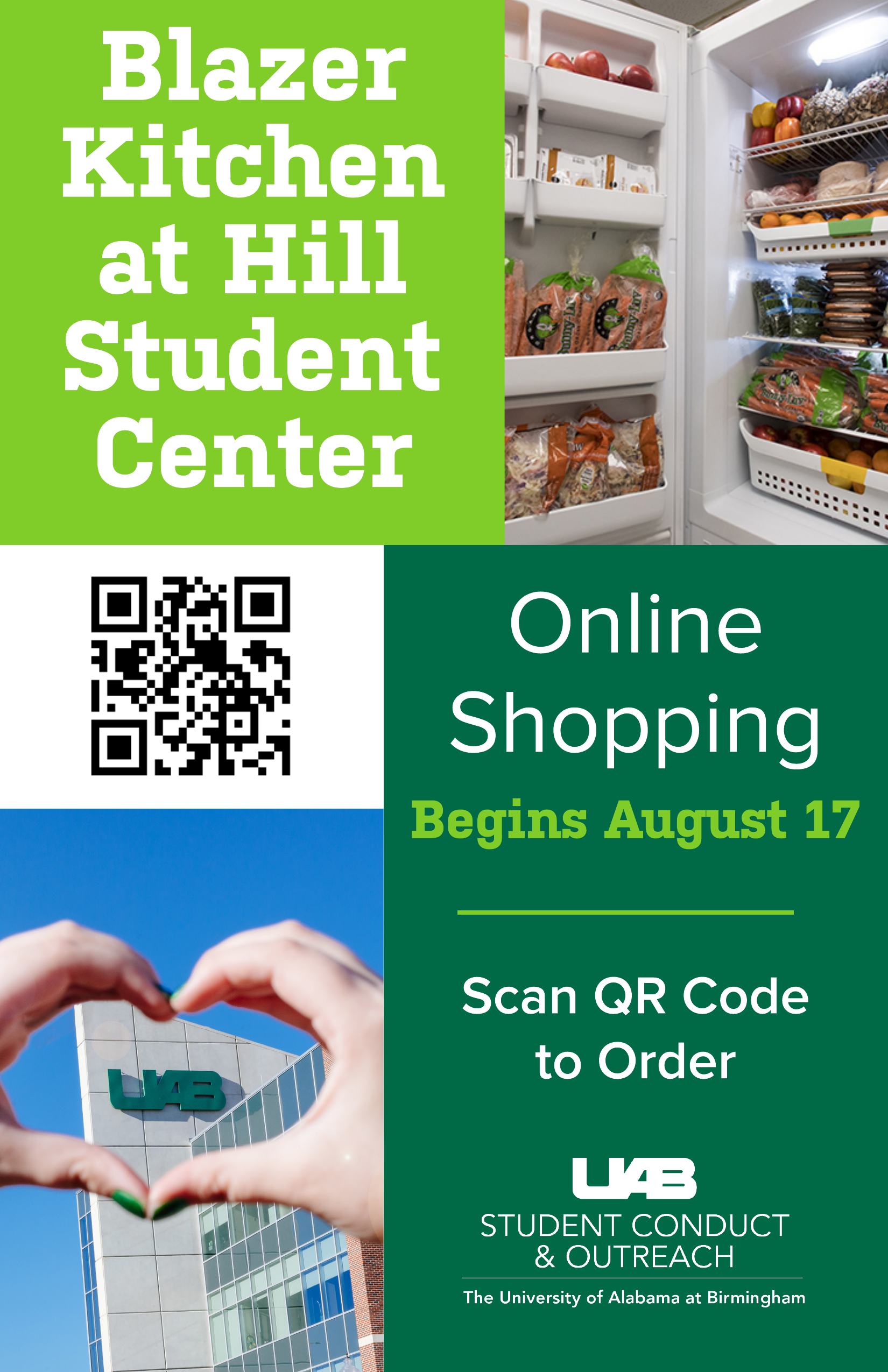 These will be back once we can enjoy their full benefits again! Still get in touch if you are a student group that wants to be advertised and we can have a great line-up!
Are you a student group funded by GSG and would like to be advertised?
Are you a Graduate student and want to be a part of GSG? Look below for information on membership, how our governing body functions and our goal to support the graduate student body at UAB. Meetings are currently held through zoom on the first Wednesday of every month.
Want to get the latest graduate news? Visit Engage to sign up for future newsletters, find information on graduate events and news!
| | | |
| --- | --- | --- |
| Come and visit us on Facebook, Twitter, and Instagram to stay informed about all the upcoming events, latest news, and amenities UAB's Graduate School has to offer. | | |
Graduate Student Government
gsg@uab.edu
wwww.uab.edu/gsg
The University of Alabama at Birmingham