Mary Fisher is a celebrated artist, author and speaker who travels the world using art and advocacy to spread compassion and to empower those who share her HIV-positive status. Her vibrant, innovative artwork- including quilts, paintings, sculptures, and photographs- has been featured at galleries and museums around the globe and can be found in distinguished private and public collections. Her extraordinary life experiences, intimate photographs, and bold art have filled five previous books and are featured in several anthologies.
Ms. Fisher has served on the Leadership Council of the Global Coalition on Women and AIDS and as an ambassador for the Joint United Nations Programme on HIV/AIDS (UNAIDS). Perhaps best known for her history-making speech at the 1992 Republican National Convention, Ms. Fisher went on to found the Family AIDS Network, a national advocacy organization that has since become the research-oriented Mary Fisher CARE (Clinical AIDS Research and Education) Fund. Through the ABATAKA Foundation, she enables HIV-infected women in Africa to support themselves and their families by creating jewelry that she designs and markets at
Abataka.org
. The mother of two young men, Max and Zachary, Ms. Fisher lives and works in Sedona, Arizona.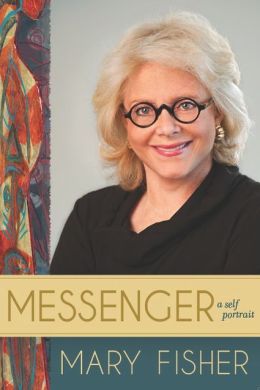 Mary Fisher took America by storm the evening of August 19, 1992, when she addressed the Republican National Convention and gave the world a new face of American AIDS: a winsome mother of two pre-schoolers who had contracted the virus within her marriage. She had been a television producer and had been named the first woman White House Advanceman by President Gerald R. Ford, but privilege had not shielded her from the virus. While she became ''a pilgrim on the road to AIDS,'' devoted to advocacy and to her children, she prepared to die.With the development of antiretroviral (ARV) therapies that could prolong the lives of persons with AIDS, Fisher's life changed dramatically once again. For fifteen years, she joined the ranks of Americans living on ARVs. Having arranged for the care of her children after her death, she now faced an uncertain future. How long would ''the cocktail'' work to keep her alive? Had any women been tested during drug research? How does one live wisely when death is no longer eminent and life itself is uncertain?
In this moving memoir, Fisher focuses her life story through the promise she made in that 1992 speech: ''I want my children to know that their mother was not a victim. She was a messenger.''
In a lively voice devoid of self pity and filled with surprising humor, Fisher tells her story as a woman of emerging strength and hope. ''In a gay, male epidemic,'' writes Fisher, ''I was a novelty: a dying Republican mother.'' Messenger proves that a ''novelty'' can grow into a woman of strength and wisdom; that a dying young mother can emerge from illness and depression with a convincing sense of humor and healing.